‎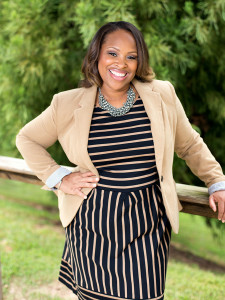 Since 2002, Franchesca Warren has devoted herself to the teaching of reading, writing, listening and speaking—first and foremost, as a high school ELA teacher, blogger, and also as an author/consultant who works with educators around the world.  As a result, she is considered one of the emerging voices in literacy education for students.
Always in search of a way to amplify teacher voice in literacy education, Franchesca honed her craft by creating a blog focused on teacher education, and working in several leadership positions around literacy education. Inspired by her own classroom experience, mentors, and professional development experiences, Franchesca has written several books for teachers, many of which have been used in education schools around the country.
From 2002-2012, Franchesca worked across three very diverse school districts in Tennessee and Georgia, where she taught every ELA class available including Advanced Placement Language, Advanced Placement, Literature, Journalism, American Literature, British Literature, Ninth Grade Literature, World Literature classes- just to name a few. As part of her affiliation with several school districts, Franchesca started the world-class educational website, The Educator's Room, for teachers to showcase their expertise in the classroom.  At least twice a month during the school year and throughout the summer months, Franchesca travels around the world to share her thoughts and insights on literacy education and guide her colleagues toward more effective instruction.
During the school year, Franchesca has worked in the Metro Atlanta area as an Instructional Coach, District ELA Support, and Literacy Coordinator to share her expertise on literacy education and how to guide fellow teachers on a more effective instruction inside the classroom. In addition to her diverse teaching experience, Franchesca is skilled in helping teachers implement various models in the ELA class including and not limited to Universal Backwards Design, Performance Assessment, conceptually teaching, inquiry, and culturally competent teaching.
Outside of her daily work with students and educators, Franchesca is a wife and mom to 4 kids and one dog. In 2012, Franchesca was selected as the Teacher of the Year for the 2012-2013  school year and a Difference Maker for Atlanta Public Schools. She's presented at national conferences including but not limited to: NCTE, GCTE, ASCD Educational Leadership Conference to name a few. In addition, she's been featured on Fox 5 News Atlanta, Fox 13 Memphis, The Jennifer Keitt Show, The Huffington Post, Staff Loungin and several other media outlets.