‎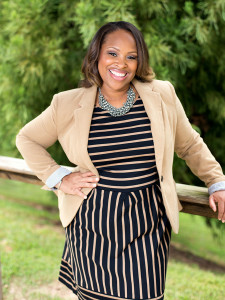 As the incoming Fulton County School Board Member for District Four,  Franchesca Warren has spent the last 18+ years advocating for equity in literacy resources for all students – as a teacher, instructional coach, and literacy coordinator across the Southeast.
Always in search of a way to amplify teacher voice, Franchesca founded the education think tank, The Educator's Room, which focuses on teacher expertise and self-care. She has authored several books for teachers, many of which have been used with teachers around the country to improve their practice. In addition, she has presented at several national conferences including NCTE, GCTE, and other professional education organizations. In 2012, Franchesca was selected as the Teacher of the Year for the 2012-2013  school year and a Difference Maker for Atlanta Public Schools. Due to her accolades both inside and outside the classroom,  she's been featured on Fox 5 News Atlanta, Fox 13 Memphis, The Jennifer Keitt Show, The Huffington Post, Staff Loungin , Education Week, and several other media outlets. In 2015, she was selected out of hundreds of applications to be part of Harvard's Turnaround School Leader Training where she collaborated with school leaders from around the world on how to tackle the inequities found in many of her schools.
Inspired by her experience in schools, Franchesca founded the parent advocacy think tank, South Fulton Parents for Education, where she has galvanized a group of parents to demand equity for schools south of the I-20 Corridor. Through the strategic work of these parents, they have been able to move forward with work of several initiatives around literacy, STEAM, and mental health.
Outside of her daily work with students and educators, Franchesca is a wife and mom to 4 kids and one dog. She enjoys reading, writing, and resting when she has time to herself.